DHL Setup
For ShipRite Global Connect
This section covers carrier setup for DHL. To access the carrier setup:
From the ShipRite main menu, click the 'Setup' tab, then click 'General Setup Options'.
Next, click the 'Carrier Setup' tab to the right.
From the Carrier Selection menu, choose which carrier to setup.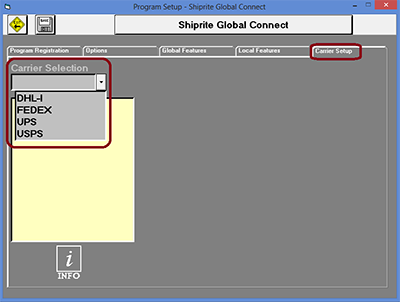 SETUP DHL ACCOUNT:
Setup DHL Account Number
You have to perform this task on the server computer.
Go to Setup > General Setup Options > Carrier Setup > DHL-I.
Enter in your DHL account number. Also in this same screen verify that you have the correct rate type selected (RS1, RS2, or RS3).
Click the "Update Now" button.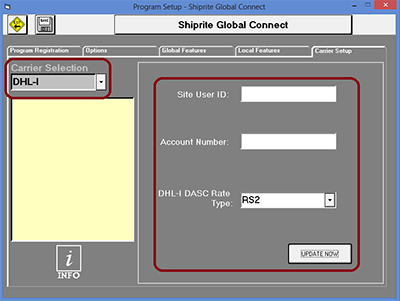 Setup DHL Label Printer
To setup the label printer, in the same setup screen click on "Local Features" and click on "PRINTER-DHL Label".
If you are not sure which printer to select you can click on the "PRINTER – Eltron/Zebra" or "PRINTER – FEDEX Thermal Labels" setting and see what printer option is selected in there.
Use that same option for the "PRINTER-DHL Label" and click "Update Now." If a pop up box asks you if it's a thermal printer, say, "YES." As of now we will not support printing DHL labels on 8.5×11 sheets.
You have to set the label printer individually on each workstation.